During this time of year we like to spend time with our loved ones and exchange gifts. How about this year, you give the gift that keeps on giving? Share Tai Chi with your friends and families. It is so gentle that everyone can participate, from the little ones up to those over 100 years old! It can be done by those with athletic ability and even with those who cannot sit or stand.
Take a look at what Tai Chi has to offer for the 12 Days of Christmas that you can gift to your loved one:
On the 12th Day of Christmas, Tai Chi gave to me: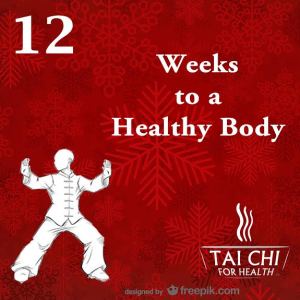 Dr. Peter Wayne of Harvard Medical School and Mark Fuerst show that 45-60 minutes of Tai Chi for 12 weeks can make a significant change in your body, heart and mind. Read the book: The Harvard Medical School Guide to Tai Chi: 12 Weeks to a Healthy Body, Strong Heart, and Sharp Mind, for more information. Read more about Dr. Wayne and Tai Chi by clicking here.
On the 11th Day of Christmas, Tai Chi gave to me:
Playing a flute or pipe requires fine motor skills which may decline with age or due to Parkinson's disease. Tai Chi helps improve fine motor skills, such as those necessary for piping or everyday activities such as handwriting, peeling a tangerine, sorting pills in a vitamin box and so on.
On the 10th Day of Christmas, Tai Chi gave to me:
Leaping involves quick movements, usually involving a strong jump. With poor balance, dysfunctional weight-shifting, impaired stability and lack of body awareness, you are more likely to fall and hurt yourself if you try to walk or especially leap! Tai Chi provides the strength and balance to keep Lords-a-Leaping; not Lords-a-Limping!
On the 9th Day of Christmas, Tai Chi gave to me: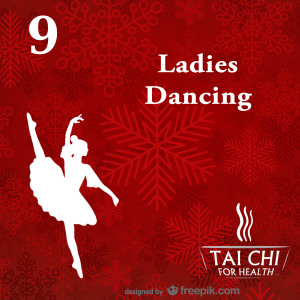 Dancing may put a lot of stress on your knees (dancer's knee) or painful knees may stop you from dancing. Many older adults suffer from stiff knees, arthritis or may even require knee replacements. Tai Chi addresses range of motion and flexibility for your joints and is even recommended for people with arthritis. Try Tai Chi to keep the dancer's knee away!
On the 8th Day of Christmas, Tai Chi gave to me: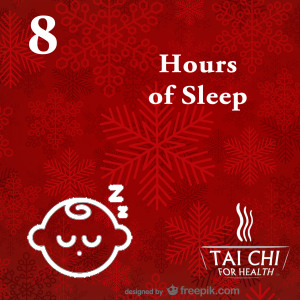 An adult needs about 8 hours of sleep, but many older adults suffer from insomnia. Tai Chi is relaxing and may relieve stress. Stress-relief leads to better sleep. Tai Chi may also soothe chronic pain that affects your ability to sleep.
On the 7th Day of Christmas, Tai Chi gave to me:
When performing Tai Chi movements you should feel as if you are moving through water. This creates a feeling of fluidity that gives grace to all of your movements and fosters a sense of tranquility. Also, like swimming, Tai Chi is low-impact but you don't need a pool to do it!
On the 6th Day of Christmas, Tai Chi gave to me: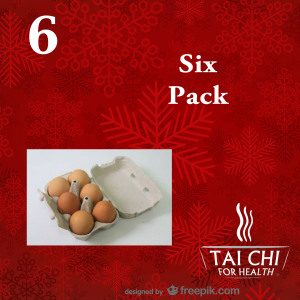 Tai Chi may not get you huffing and puffing, but it does lead to weight loss when combined with a healthy diet. Weight loss and strength training can get you on your way to abs of steel!
On the 5th Day of Christmas, Tai Chi gave to me: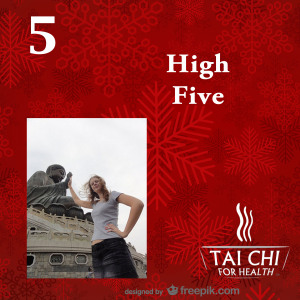 A high-5. With Tai Chi you have a reason to celebrate and people to celebrate with. Tai Chi is fun and people are more likely to stick to it than other forms of exercise. It is also a social activity and many older adults enjoy Tai Chi classes as well friends they share it with.
On the 4th Day of Christmas, Tai Chi gave to me: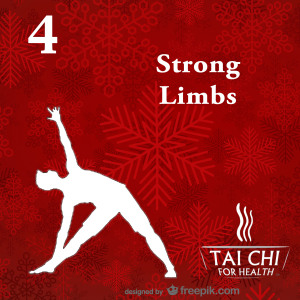 We lose muscle mass, strength and flexibility as we age. Tai Chi helps strengthen your legs and keep your firm on the ground. It helps make sure you can continue to do daily activities like reach above your head to get something from a top shelf, walk without falling and walk upstairs with ease.
On the 3rd Day of Christmas, Tai Chi gave to me:
Tai Chi is the ultimate experience for bringing your body, mind and spirit into single focus. As you performs Tai Chi movements with mindful intent your body and mind become integrated. The integration of mind and body has a very calming and elevating effect on your spirit
On the 2nd Day of Christmas, Tai Chi gave to me:
On the 2nd day of Christmas Tai Chi gave to me : 2 happy lungs: Studies have shown that Tai Chi breathing techniques may relieve some symptoms of chronic pulmonary obstruction disease (COPD). The relaxed breathing techniques you learn in Tai Chi can also help relieve stress and relax you.
On the 1st Day of Christmas, Tai Chi gave to me:
The one DVD you need to maintain your independence. Impaired mobility is one of the main reasons many older adults cannot live alone or perform their daily activities. The Tai Chi for Strength and Balance form helps you develop and maintain the strong muscles and balance to avoid falls and continue to do many of the activities you love independently. Independent movement is independent living! Order a copy today: http://www.taichiforhealth.net/product/tai-chi-for-strength-and-balance/